Planning Luxury Retreats in Spain or Portugal
Spain, with its picturesque landscapes, rich culture, and healthy Mediterranean lifestyle, has become an ideal destination for business, health and wellness professionals seeking a conducive environment to thrive and make a positive impact.
Below we will explore the advantages offered by Spain as a perfect destination for medical doctors, licensed health practitioners, fitness coaches, nutrition experts, and yoga meditation leaders and others, and why they should consider Spain as their ultimate destination for professional growth, personal fulfillment, and an opportunity to positively influence the lives of others.
Corporate, incentive or wellness retreats are a great way to unplug from the hustle and bustle of everyday life to recharge, reboot and rekindle creativity and joy. The focus is on team building, cultural fun and well-being. There are many different types of retreats available including a balance of work sessions with fun elements like guided cultural excursions to UNESCO listed attractions, active excursions in beautiful natural settings or wellness options like massages, meditation, yoga or fitness.
But let's face it, planning a retreat in Spain or Portugal can be a pain in the neck unless you are a travel and event professional with experience in Iberia. There's the location to find, the activities to book, and the transfers to arrange. It's enough to make you want to just stay home and watch Netflix.
But don't worry, we're here to help. Our team of experts will take care of all the logistics in Spain or Portugal. We'll set the stage, so you can focus on the fun stuff, like creating your itinerary, selecting the activities, hosting your retreat and bonding with your team or your guest.
We'll find unique locations and local activity providers for any excursions or cultural fun you'd want your people to experience. Imagine the amazing architecture of Seville, Barcelona or Lisbon, competitive team trivia, hot air ballooning, Sea to sky scavenger hunts, tasting olive oils, wines & cheeses in a medieval village, a fun flamenco dance fiesta, a chef led paella show cooking, surf class, beach time or Tuk-TuK fun in Lisbon and the Iberian sun 300+ days a year!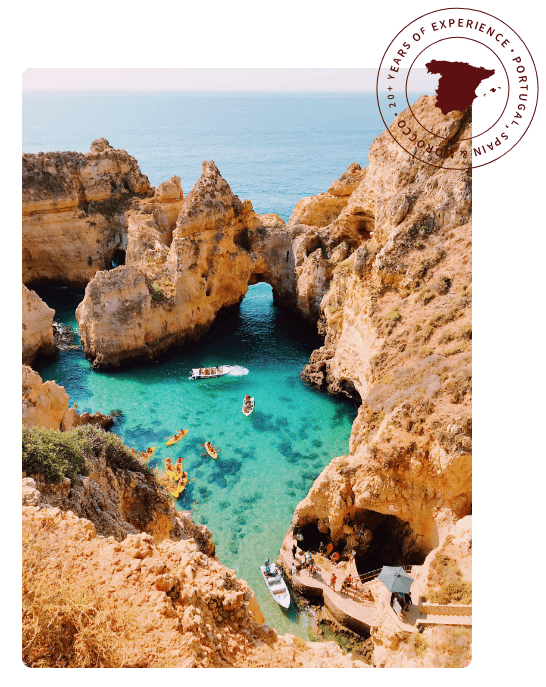 Why you should choose Spain as your next retreat location
Growing Wellness Industry & Sunny Climate
Spain's wellness industry is growing, making it an attractive hub for health and wellness professionals. The country is home to numerous wellness retreats, spas, fitness centers, and yoga studios, all catering to the growing demand for holistic well-being. As a professional in this industry, Spain has some of the best weather in Europe. A Spain wellness retreat provides ample opportunities to connect with like-minded individuals, collaborate on innovative projects, and establish a strong network within the wellness community.
Mediterranean Diet and Lifestyle
The Mediterranean diet, renowned for its health benefits, is deeply ingrained in Spanish culture. With its emphasis on fresh produce, olive oil, whole grains, and lean proteins, Spain offers an abundance of nutritious and delicious food options. Health and wellness professionals can promote the Mediterranean lifestyle, sharing their expertise in nutrition, healthy cooking, and mindful eating practices, while enjoying the country's culinary delights.
Natural Beauty and Outdoor Activities
Spain's diverse landscapes, from stunning coastlines to majestic mountains, provide a breathtaking backdrop for outdoor activities and wellness pursuits. Health and wellness professionals can lead hiking and biking tours, organize beach yoga sessions, or guide meditation retreats amidst the tranquil beauty of Spanish nature. Engaging in outdoor activities not only benefits individuals but also encourages a deeper connection with the natural world.
Supportive Community and Clientele
Spain boasts a supportive community of individuals seeking to improve their overall well-being. Whether it's locals embracing a healthier lifestyle or international visitors looking for wellness experiences, health and wellness professionals will find a receptive audience eager to engage with their expertise. This vibrant and diverse clientele allows professionals to make a meaningful impact on people's lives and witness positive transformations firsthand.
Cultural Enrichment and Work-Life Balance
Spain's rich history, art, and vibrant cultural scene contribute to a well-rounded lifestyle that emphasizes work-life balance. Health and wellness professionals can immerse themselves in the local culture, enjoy world-class museums, explore historical sites, and indulge in the country's vibrant social life. Spain's relaxed pace of life encourages a healthy work-life integration, allowing professionals to prioritize their own well-being while pursuing their passions.
Access to Global Conferences and Events
Spain serves as a hub for international conferences, workshops, and events focused on health, wellness, and personal development. Professionals can actively participate in these gatherings, presenting their research, sharing insights, and expanding their knowledge through interactions with experts from around the world. This exposure not only enhances professional growth but also fosters collaborations and provides inspiration for innovation in the field.
Spain offers an enticing blend of a healthy lifestyle, thriving wellness industry, and a supportive community, making it an exceptional destination for demanding medical doctors, life coaches, fitness nutrition experts, and yoga meditation leaders. By choosing Spain, these professionals can realize their aspirations, contribute to the well-being of others, and enjoy a fulfilling personal and professional journey in a country known for its warmth, beauty, and commitment to holistic health. Embark on this transformative experience and let Spain become your haven for growth, success, and well-being.
As specialists in Iberia luxury travel for over 20 years, we have a network of trusted providers, properties and partners, so we can help create an event to meet your goals.
Contact Us Today