Private Tours of Spain
With Magical Spain private luxury travel, experience the fascinating Spanish people, culture, and a rich collection of extravagant places to fit your style and pace await.
Unlike other agencies, we only accept 5 customers per week so we can deliver the truly personalized luxury trip that you are not only paying for but deserve on a first reserve first serve basis.
Experience Spain Like Never Before
You can enjoy the rewards of the former Spanish superpower status and incredible wealth in it's one-of-a-kind historic monuments, castles, Cathedrals, gardens and palaces. We add a healthy dose of la buena vida, the Spanish Good Life — a deep Spanish cultural desire to enjoy all of life's moments.
Don't worry, our talented team is bilingual and service-minded, so no Spanish is needed for your private Spain tours & vacations. Just be ready to enjoy access to the unique people, places and exclusive experiences that fit your interest and that make Spain so distinctive.
Imagine walking ancient trails between medieval villages, tasting amazing wines of the Rioja, Ribera del Duero, or the best tapas of Madrid or Seville with a side dish of conviviality. Or consider the Mediterranean sailing fun in Mallorca.
Discover how in Spain food, family, fútbol and amigos bind and define the one-of-kind Spanish lifestyle as well as business, networks and culture.
Many of our customers have marveled at Spain's diverse offerings and experiences. This is because of the deep variety of unique experiences you can select: UNESCO World Heritage places, foodie fun and fascinating passionate people in and outside of travel and tourism. We set the stage, You enjoy the moments and memories.
Start Exploring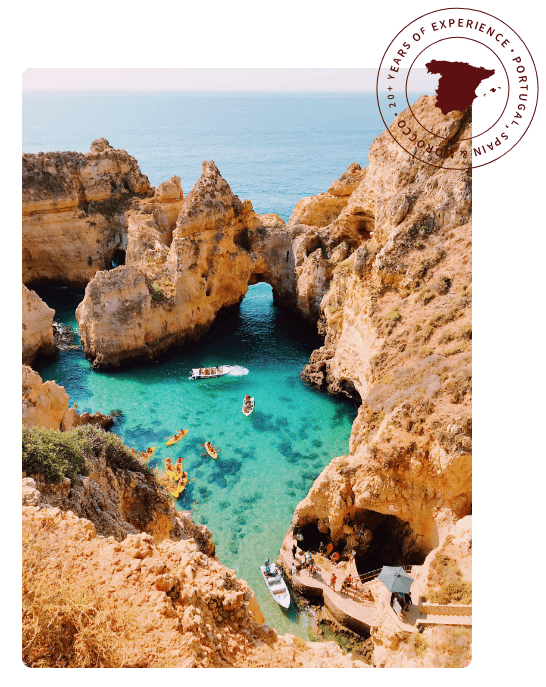 Highlights of Spain
Madrid Royal Palace & Old Town Tapas Tour
Embark on a historic and cultural adventure in old Madrid with the oppulent Spanish Royal Palace that harken back to Spain's time as a world superpower before the USA existed. Combine this with a tasty culinary adventure sampling traditional Spanish tapas and learning insider secrets of Spain's one-of-a-kind food culture.
Segovia's Roman Aqueduct and Disney-like Castle
Explore the impressive Roman aqueduct and fairy-tale-like Segovia castle in Segovia, immersing yourself in the rich history and architectural beauty of this UNESCO World Heritage city.
Toledo Cathedral and Medieval Quarter
Visit the magnificent Toledo Cathedral, a Gothic masterpiece, and wander through the narrow streets of the Medieval Quarter, soaking up the historic charms of this ancient city where Christianity, Islam and Judaism once coexisted in peace.
Splendid Seville Old Town
Savor Seville's elegant & multi-layered historic ambiance from Roman to contemporary architecture admired by Hemingway and many others. See Game of Thrones' sites like the Royal Alcazar fortress, palace & lush designer gardens on a private insider walking tour.
Alhambra Palace & Generalife Gardens in Granada
Marvel at the intricate Moorish architecture of the Alhambra Palace and wander through the enchanting Generalife Gardens, soaking up the magical atmosphere of this UNESCO World Heritage site.
Explore the Spanish Alps
Embark on a thrilling guided luxury hiking adventure in the Pyrenees, exploring picturesque trails, stunning mountain vistas, and encountering charming villages along the way, at your pace.
Sagrada Familia Tour in Barcelona
Discover the architectural marvel of Antoni Gaudi's unfinished masterpiece, the Sagrada Familia, with a guided tour that unveils its fascinating history and intricate design.
Rioja Wine Tasting
Discover the world-renowned wines of the historic and beautiful Rioja region, visiting prestigious wineries, learning about the winemaking process, and indulging in tastings of exquisite reds and whites.
Lanzarote's Timanfaya National Park
Venture into the otherworldly landscapes of Timanfaya National Park in Lanzarote, exploring volcanic craters, geothermal demonstrations, and witnessing the dramatic forces of nature at work.
Camino de Santiago Pilgrimage
Join pilgrims from around the world on a section of the Camino de Santiago, a renowned pilgrimage route in northern Spain, experiencing the rich cultural and spiritual heritage of the region.
Guggenheim Museum in Bilbao
Immerse yourself in contemporary art at the iconic Guggenheim Museum in Bilbao, admiring the striking architecture and exploring thought-provoking exhibitions.
Sunset Cruise in Mallorca
Sail along the stunning coastline of Mallorca on a private sunset cruise, savoring breathtaking views, refreshing drinks, and a truly magical experience.
Galician Seafood Feast
Indulge in a seafood extravaganza in Galicia, known for its fresh and delectable seafood dishes. Enjoy a traditional Galician seafood feast, paired with local wines and immersed in the region's maritime traditions.
Flamenco Guitar Lesson in Seville
Unleash your inner musician with a private flamenco guitar lesson in Seville, learning the soulful rhythms and techniques of this captivating musical style.
La Boqueria Market Tour in Barcelona
Explore Barcelona's famous Old Town with Roman and medieval heritage + the delicious La Boqueria Market with a knowledgeable guide, discovering fresh produce, local delicacies.
Olive Oil Tasting in Andalucia
Delve into the world of olive oil production in Andalucia, learning about the different varieties, sampling premium oils, and understanding the art of olive oil tasting in Seville, Cordoba or Granada.
Moorish Baths in Granada
Indulge in a rejuvenating experience at a traditional Moorish bathhouse in Granada, immersing yourself in the soothing hot pools and enjoying a pampering spa treatment.
Galician Wine and Seafood Pairing
Discover the perfect marriage of Galician wines and fresh seafood during a specialized wine and seafood pairing experience, guided by a knowledgeable sommelier.
Flamenco Dance Workshop in Seville
Learn the passionate movements and rhythms of flamenco through a hands-on dance workshop in Seville, immersing yourself in this expressive art form.
Museum of Fine Arts in Seville
Explore the extensive collection of Spanish artwork at the Museum of Fine Arts in Seville, including works by renowned painters such as Velazquez, Murillo, and Zurbaran.
Hot Air Balloon Ride over the Pyrenees
Soar above the breathtaking Pyrenees landscape on a hot air balloon ride, enjoying panoramic.
La Mezquita Cathedral in Cordoba
Step into a fascinating blend of Islamic and Christian architecture at the Mezquita Cathedral in Cordoba, marveling at the beautiful horseshoe arches and stunning prayer hall.
Tenerife's Teide National Park
Venture out into the unique Teide National Park in the Canary Islands, home to the towering Mount Teide volcano. Take a cable car ride to enjoy panoramic views and explore unique volcanic landscapes.
Wine Tour in Ribera del Duero
Embark on a wine tour in the prestigious Ribera del Duero region, visiting renowned wineries, tasting exceptional red wines, and learning about the winemaking traditions of the area.
Soulful Seville Flamenco Performance
Enjoy emotive song, dance and Spanish guitar as youImmerse yourself in the passionate rhythms and soulful melodies of flamenco during an authentic performance in ancient Seville, experiencing the soulful emotions of this captivating art form.
UNESCO Roman Heritage of Merida
Step back in time in Merida, exploring the well-preserved Roman Theater and strolling through the charming old town, discovering the remnants of the Roman Empire.
Canary Islands Beach Retreat
Escape to the pristine beaches of the Canary Islands for a luxurious beach retreat, enjoying the year-round sunshine, crystal-clear waters, and rejuvenating spa treatments.
Alcazar of Segovia and Royal Palace of La Granja
Visit the elegant Alcazar of Segovia, known for inspiring Disney's Cinderella Castle, and then explore the opulent Royal Palace of La Granja, admiring its lavish gardens and exquisite interiors.
Whale Watching in the Canary Islands
Embark on an unforgettable whale watching excursion in the waters surrounding the Canary Islands, encountering majestic marine creatures such as dolphins, orcas, and humpback whales.
Avila's Medieval Walls and Cathedral
Discover the well-preserved medieval walls of Avila, a UNESCO World Heritage site, and admire the grandeur of Avila Cathedral, a magnificent example of Gothic architecture.
Are you intrigued by these unique Spain experiences for upscale cultural travel?
Why not experience the best of Spain in luxury style, your way?
Spain
Embark on an unforgettable journey to Spain's top two cities, where enchantment awaits at every turn.