Private Tours of Portugal
Conquering a country is hard, but a once-in-a-lifetime Portugal luxury tour is easy with our expertise on your side.
Unlike other agencies, we only accept 5 customers per week so we can deliver the truly personalized luxury trip that you are not only paying for but deserve on a first reserve first serve basis.
Experience Portugal Like Never Before
Beautiful Portugal breaths heritage, ancestral tradition and pride in culinary customs. Strolling one historic block you can "time-travel" 500 years both architecturally and gastronomically in Oporto, Lisbon, Coimbra, Evora and beyond.
Vibrant, yet once overlooked, pretty Portugal offers a plethora of cultural fun from lovely Lisbon's seven hills to Porto, an idyllic river city on the Atlantic. Don't miss the gorgeous Douro river wine valley, the timeless tradition of medieval towns of the rustic Alentejo, the Roman heritage of Evora, the mild sunny climate, ancient prehistoric dolmens & grottos, the amazing Algarve's red-cliffed coast or the islands of Madeira or the Azores.
Once Europe's richest country, Portugal's empire stretched from the Americas to Asia for some 200 years. During this Golden Age, incredible works of art and architecture, much of which you can still see, were completed. You can still note the exotic ambiance in details of the designs, cuisine and culture that are unique to Europe.
Thanks to our network of savvy Portugal insiders, our customers enjoy privileged access to a wide range of fascinating experiences, places and people that you will not likely find on TripAdvisor. This might include winemakers, fashionistas, chefs, architects, top artisans, soccer experts, artist as well as the helicopter pilots and captains of yachts and powerboats to get a nautical look at this seafaring country.
Start Exploring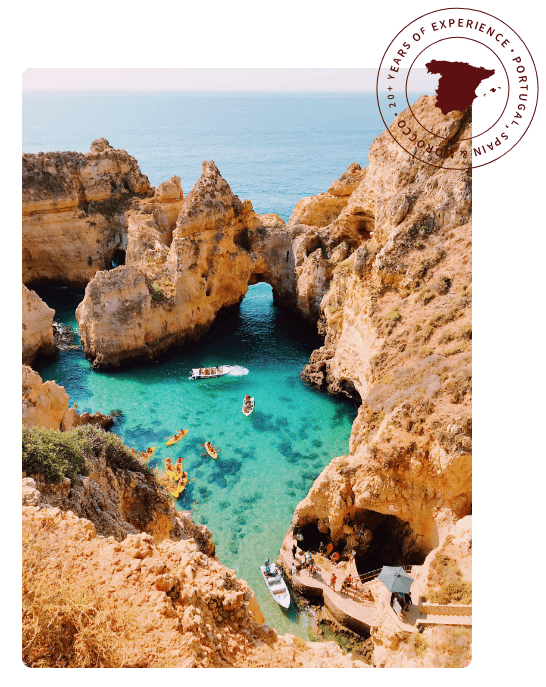 Highlights of Portugal
Douro Valley Wine Tour
Embark on a luxurious wine tour through the enchanting Douro Valley, visiting renowned vineyards, tasting exquisite wines, and enjoying breathtaking views of terraced vineyards.
Private Cooking Class with a Michelin-starred Chef
Learn the art of Portuguese cuisine in a private cooking class with a renowned Michelin-starred chef, where you'll create gourmet dishes using the freshest local ingredients.
Private Yacht Cruise along the Algarve Coast
Sail along the stunning Algarve coastline on a private yacht, discovering hidden coves, secluded beaches, and indulging in gourmet meals prepared by a personal chef.
Luxury River Cruise along the Douro River
Embark on a luxurious river cruise along the scenic Douro River, indulging in five-star amenities, gourmet dining, and visits to charming riverside towns and vineyards.
Lisbon Food and Wine Tour
Explore the vibrant culinary scene of Lisbon with a private food and wine tour, sampling traditional Portuguese dishes, visiting local markets, and dining at Michelin-starred restaurants.
Exclusive Algarve Catamaran Tour to the Benagil Caves
Explore the stunning Benagil Caves on a private catamaran tour, witnessing the breathtaking rock formations and crystal-clear waters of this natural wonder.
Helicopter Tour of Sintra
Soar above the enchanting town of Sintra in a private helicopter, marveling at the fairytale-like castles, palaces, and lush landscapes that make this UNESCO World Heritage site truly magical.
Horseback Riding in the Alentejo Countryside
Experience the tranquility of the Alentejo countryside on a private horseback riding excursion, meandering through picturesque landscapes and vineyards, accompanied by a knowledgeable guide.
Exclusive Fado Experience in Lisbon
Immerse yourself in the melancholic and soul-stirring sounds of Fado, a traditional Portuguese music genre, during a private performance in an intimate setting.
Private Sunset Tour of Porto
Enjoy a private sunset tour of Porto, cruising along the Douro River, sipping on fine Port wine, and capturing mesmerizing views of the city's iconic bridges and colorful riverside buildings.
Surfing in Nazaré
Ride the world-famous waves of Nazaré, known for some of the largest surfable waves in the world, with the guidance of expert instructors and the thrill of an exclusive surf experience.
Luxury Spa Retreat in the Azores
Indulge in a pampering spa retreat in the picturesque Azores islands, where you can rejuvenate with exclusive treatments, soak in natural hot springs, and bask in the breathtaking natural beauty.
Private Guided Tour of Pena Palace
Discover the whimsical Pena Palace in Sintra with a private guide, exploring its vibrant colors, intricate details, and picturesque gardens, while learning about its rich history.
Exclusive Golf Experience in the Algarve
Tee off at world-class golf courses in the Algarve, known for their stunning coastal settings and impeccable design, providing an upscale and exclusive golfing experience.
Cork Forest, Winery & Olive Oil Experience in Alentejo
Venture into the beautiful vineyards, olive groves cork forests of Alentejo, where you can learn about these ancient traditions, perhaps participate in the harvesting process, and if desired enjoy a wine and cheese tasting amidst the tranquil surroundings.
Is Portugal on your destination list?
Experience the country in luxury, with a custom tailored tour made for you.
Portugal
Get ready for an exclusive, romantic Portugal honeymoon of a lifetime! Your luxe trip is expert planned and supported 24-7.