Overview
Embark on a romantic and exclusive 10-day journey through Portugal and Spain, where each day is an unforgettable experience. In Barcelona, a private tour reveals the mysteries of the Gothic Quarter and the genius of Gaudí. Discover the secrets of wine in Penedès and spirituality in Montserrat.Madrid welcomes you with its historic streets, exquisite tapas, and the power of flamenco. Toledo enchants with its history and unique architecture. Lisbon captivates you with its historical charm and soul-stirring Fado.Explore Alfama and iconic monuments in Lisbon. Discover the architectural gems of Sintra and the coastal beauty of Cascais. Each day is filled with exclusive experiences, expert guides, 5-star hotels, and world-class restaurants. Join this journey that will be etched in your heart forever.
Itinerary
Day One
Beguiling Barcelona Highlights
Get ready for a journey through time in the heart of Barcelona! Our exclusive private tour of the Gothic Quarter will take you through cobblestone alleys and hidden squares, where intriguing stories and ancient mysteries await to be unveiled. Guided by a passionate and expert guide, you'll experience a deep dive into the city's past while savoring the most exquisite tapas at centuries-old establishments. A journey that awakens all your senses and immerses you in the eternal magic of Barcelona. Welcome to an unforgettable adventure!
Day Two
Barcelona's UNESCO Widers of Gaudí
Immerse yourself in the fascinating world of modernist architecture on an exclusive private tour, guided by an expert, that will transport you to Antoni Gaudí's vision. Explore iconic masterpieces like the Sagrada Familia and Park Güell, where every detail tells a story of innovation and art. Experience Gaudí's genius as you stroll through the charming streets of Barcelona, unveiling the secrets of his creations. Dive into the perfect fusion of art and innovation on this thrilling journey.
Day Three
Montserrat + Penedés Wine Country Private Tour
Experience a unique journey from Barcelona. It starts with an exciting visit to a winery in the heart of Penedès, where an expert oenologist will immerse you in the world of wine, art, and tradition. Enjoy an exclusive meal afterward in the private dining room of an ancient farmhouse. Next, head to Montserrat on a private tour with an expert guide. Montserrat Monastery, a beacon of culture and spirituality, will unveil its intriguing history and the mysterious beauty of the Virgin of Montserrat, known as La Moreneta. In this spectacular natural setting, you'll encounter a unique blend of culture, nature, and mysticism on this sacred mountain. A paradise for history and natural beauty enthusiasts.
Day Four
Majestic Madrid
Embark on a vibrant journey through the streets of Madrid, where iconic places like the Royal Palace and Plaza Mayor await you. Explore the literary and gastronomic paradise of Las Letras. Find serenity in Retiro Park, a UNESCO World Heritage Site. Immerse yourself in the artistic wonders of the Prado Museum. Unforgettable sunsets await you at the Temple of Debod and the Circle of Fine Arts. Madrid's palette of creativity is a masterpiece in itself on this exclusive private tour.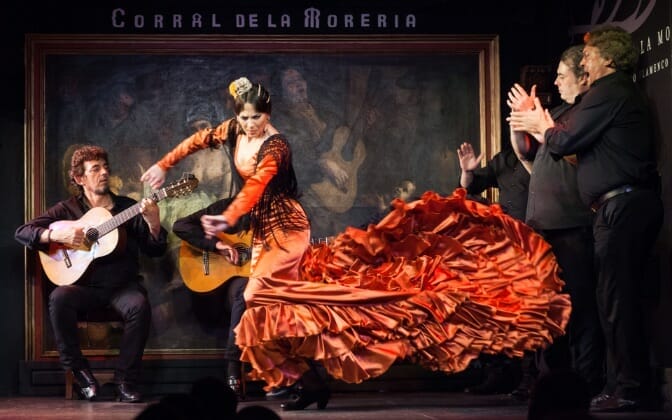 Day Five
Majestic Madrid
Indulge in the tempting world of gourmet tapas and exquisite wines in Madrid, where every bite is a symphony of flavors crafted with artistic precision. Immerse yourself in the moving charm of flamenco, as rhythmic beats and passionate movements transport you to another realm. Discover the enchantment that captivated Ava Gardner, who found solace and inspiration in Madrid's captivating tablaos. Let your senses embark on an extraordinary journey, where culinary delights and cultural splendors intertwine in perfect harmony. Madrid awaits, ready to captivate your spirit.
Day Six
Timeless Toledo
Embark on an exclusive excursion from Madrid to Toledo, a city where history comes to life amidst its labyrinthine streets. Stroll through its ancient alleyways, where Christian, Jewish, and Moorish cultures intertwine, leaving behind a unique architectural and cultural legacy. Marvel at the grandeur of the Gothic Cathedral and the masterpieces of El Greco. With a private tour and an expert guide, uncover the secrets of Toledo's rich tapestry. This journey promises an immersive experience that transcends time, revealing the essence of this charming Spanish gem.
Day Seven
Lovely Lisbon
Today, you'll arrive in Lisbon on a short flight from Madrid. Our driver will take you to your luxurious hotel. Lisbon, known as the "City of Seven Hills," embodies a captivating blend of history and modernity. Explore cobbled streets where the past and present merge in a harmonious dance. Delight in culinary delights and immerse yourself in the warmth of local culture. Enjoy soul-stirring Fado in one of the city's most iconic venues. Lisbon is a poem of contrasts, where ancient beauty meets contemporary vitality at every turn.
Day Eight
Lovely Lisbon
Embark on an exclusive private tour of Lisbon's cultural treasures, accompanied by an expert guide. Explore the charming historic neighborhoods of Alfama and Bairro Alto, where history comes to life at every corner. Marvel at the majesty of São Jorge Castle, the beauty of Jerónimos Monastery, and the stunning Belem Tower. Discover authentic food markets and learn about the craftsmanship behind the iconic Portuguese tiles in a historic factory. Immerse yourself in the artistic richness of local museums, from the enigmatic Fado paintings to the contemporary expressions of talented artists. Get ready for a unique experience that will transport you to the heart of Lisbon!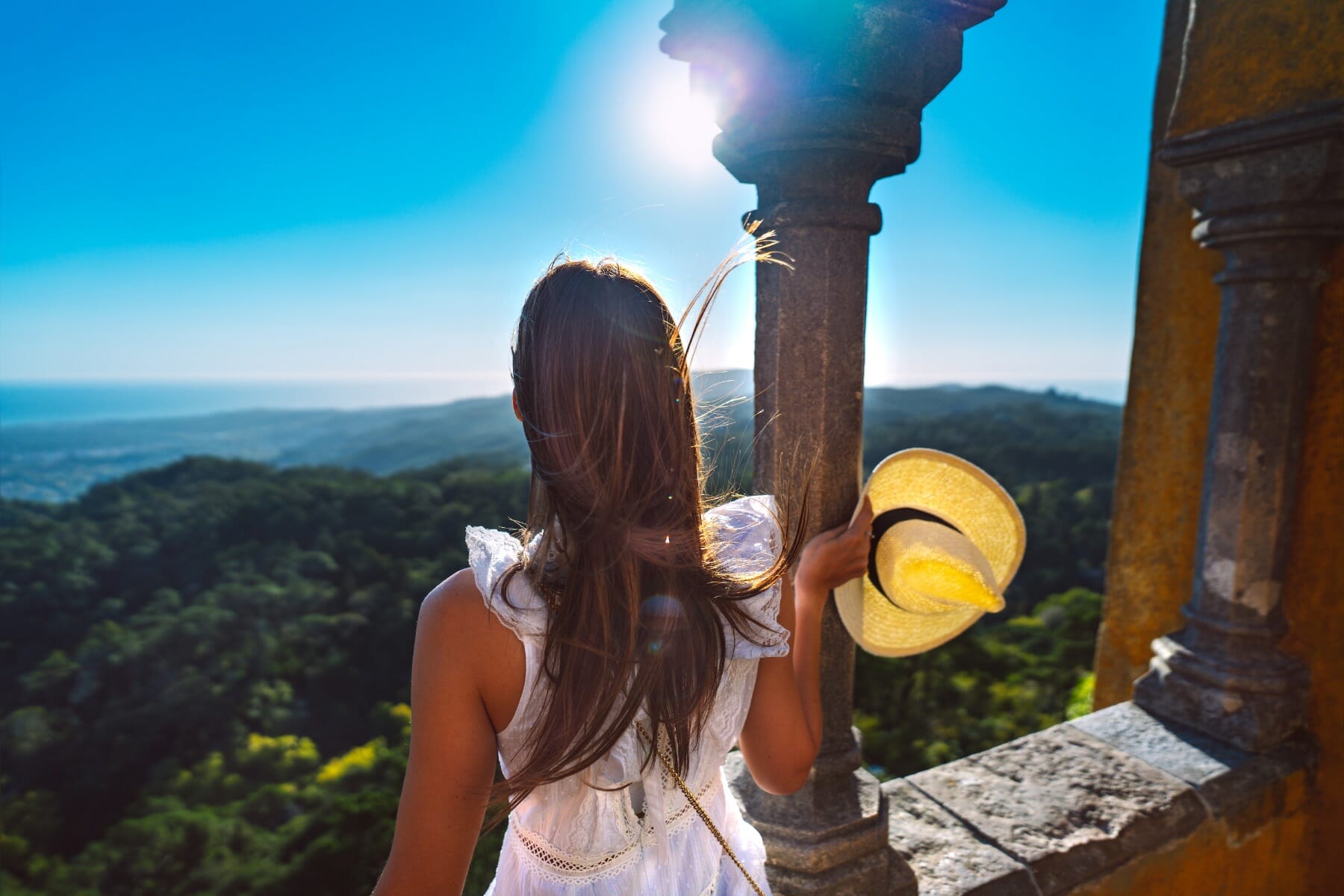 Day Nine
Secrets of Romantic Sintra & Cascais
Imagine a unique journey from Lisbon, where the land embraces the sea at Cabo da Roca. Discover Azenhas do Mar, a hidden coastal gem nestled among mountains. Marvel at its beaches and natural pools. Sintra, a place of architectural wonders and mystery, awaits you. Savor delicious local cuisine and explore charming streets, lush parks, and regional pastries. Experience nature, history, and charm guided by an expert on a luxury private tour from Lisbon. An adventure that awakens all your senses.
Day Ten
Farewell & Happy Travels Always!
We've reached the end of your unforgettable honeymoon! As this journey comes to a close, the special moments you've experienced during these days will stay in your heart. Now, our exclusive private transfer awaits to take you from your hotel to the airport. It's time to bid farewell to this love-filled trip and these unique memories, but remember you're always welcome to return and create more memories together. Until we meet again!
Customize this Tour
We believe life is short and that you deserve your dream trip to be truly personalized & seamless without missing out. That's why we have our "Only 5 Tours per Week Promise"… to offer more quality for our customers.
Inquire Today
Magical Spain & Portugal has many tours & itineraries to check out — here are a few more to consider for your dream vacation.
Multi-Country
Embark on a romantic 14-day honeymoon in Portugal and Spain, a dream journey from picturesque Porto to vibrant Barcelona.
Multi-Country
This is a trip for those who want to experience the crossroads of Europe and Morocco.
Multi-Country
This is a trip for those who want to experience the crossroads of two worlds.