Overview
Get ready for an exclusive, romantic Portugal honeymoon of a lifetime! Your private adventure seamlessly blends luxury and charm as you explore the stunning beaches of the Algarve, the historic cities of Lisbon and Porto, the mystical Sintra, and the meandering vineyards of the Douro Valley. Discover the astonishing beauty of Sintra, the secrets of the Benagil Caves, the grandeur of Lisbon, the authenticity of Porto, and the serenity that surrounds the vineyards in the Douro Valley. Delight in exquisite Portuguese cuisine at renowned restaurants and stay in carefully selected five-star hotels. Prepare to create unforgettable memories on this exceptional Portugal honeymoon, made-to-fit.

NEXT STEP?... Contact us to check availability as we only run 5 tours per week in each country. See a sample private romantic and honeymoon tour itineraries below... Our Iberia experts are excited to discuss with you the various options available. 🌹🥂🌌
Itinerary
Day One
Lovely Lisbon - Algarve
Welcome to Portugal, a destination that dazzles with its beauty and charm. Our private transport service will pick you up at Lisbon Airport and take you to an exclusive resort in a unique enclave in the Algarve, in southern Portugal. Here, you can relax and enjoy the serenity of this beautiful corner of Portugal. Take a dip in the pool or the warm sea, watch the sunset on the beach, and savor delicious Portuguese cuisine at the resort's restaurant. Your honeymoon has begun in a coastal paradise, and this is just the beginning of an unforgettable experience in Portugal.
Day Two
Amazing Algarve Coast
Discover the magic of picturesque villages and let yourselves be captivated by the grandeur of Cabo San Vicente on this exclusive private tour, all at your own pace, accompanied by an expert guide and private transportation. Delight in the exquisite local cuisine, savoring fresh seafood and authentic culinary delights. Explore romantic trails, uncover ancient mysteries, or embark on thrilling hikes and mountain bike routes together. Experience, enjoy, and let yourselves fall in love with the unique beauty and culinary delights that this special journey offers to you as newlyweds.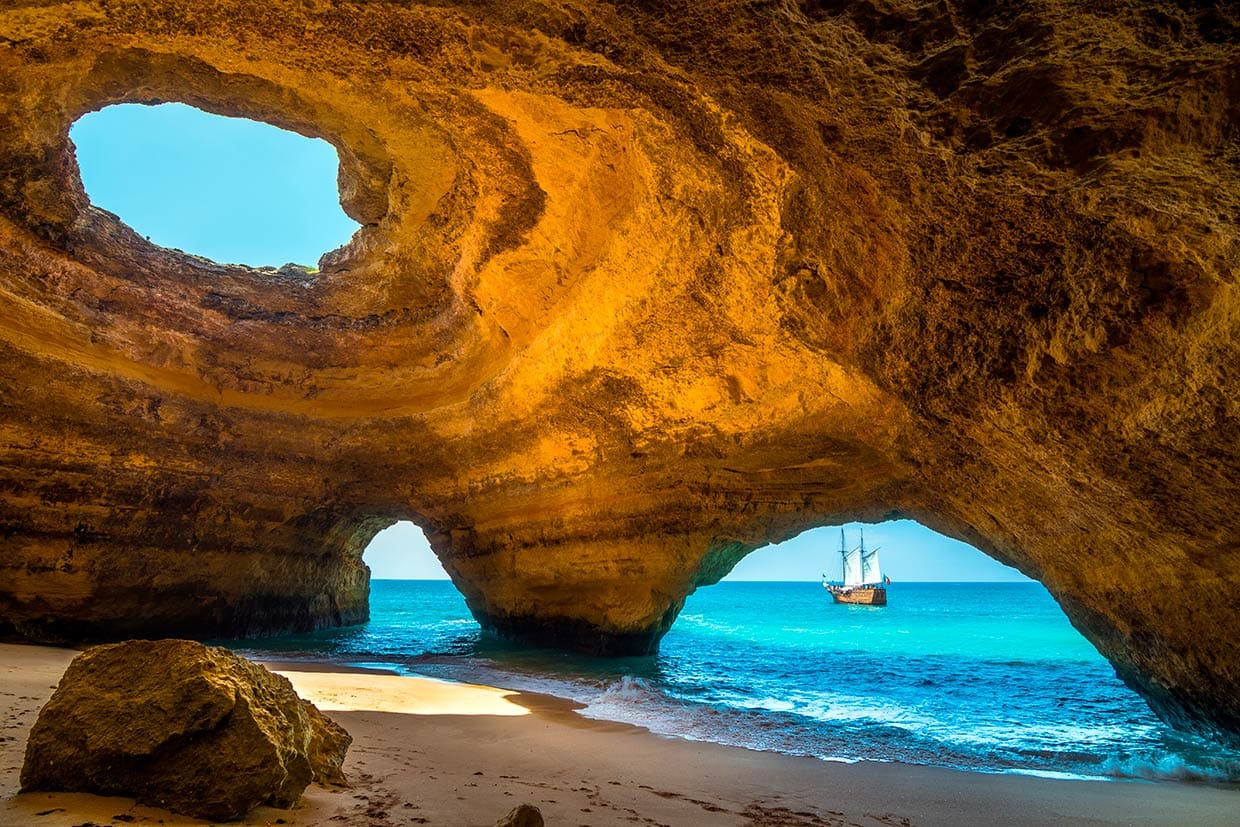 Day Three
Amazing Algarve Coast
Discover the stunning Benagil Caves on a private tour with an expert guide. Along the Algarve coast, this natural setting dazzles with its unique light. Embark on an exciting marine adventure to explore hidden caves and passageways. Your knowledgeable guide will share the fascinating history, geology, and marine life of the region as you sail through the crystal-clear waters of the Atlantic. A unique experience to connect with nature and be amazed by this coastal wonder of the Algarve.
Day Four
Timeless Alentejo Region
Take an unforgettable sensory journey through the charming Alentejo region with private transportation and an expert guide. Let yourself be captivated by the aroma of freshly pressed olive oil, discover the versatility of cork amidst beautiful forests, taste award-winning wines that embody passion and terroir, and indulge in exquisite regional cuisine. Delight in an authentic experience and immerse yourself in the essence of this land full of flavors, traditions, and charm. At the end of the day, unwind in a luxurious hotel surrounded by nature for complete relaxation.
Day Five
Timeless Alentejo Region
Explore the charming city of Évora in a unique experience. Immerse yourself in the rich history, culture, and stunning landscapes of the city with a private tour and an expert guide. Experience the medieval charm of Évora, a UNESCO World Heritage city, with its cobbled streets and majestic landmarks. Delight in authentic Évora cuisine and wines. This genuine adventure promises an unforgettable journey to the heart of Portugal.
Day Six
Timeless Alentejo => Lisbon
Begin your journey from Alentejo in a private transport to your luxurious hotel in Lisbon. After settling in, an expert guide will lead you through the charming historic neighborhoods of Alfama and the sophisticated Bairro Alto. Explore the grandeur of São Jorge Castle, the magnificence of Jerónimos Monastery, and the majesty of Belém Tower. Delight in Portuguese cuisine and immerse yourself in the artistic wealth of local museums. Experience the vibrant energy of Lisbon on this unforgettable cultural journey.
Day Seven
Romantic Sintra's Secrets
Imagine a unique journey from Lisbon, where the land embraces the sea at Cabo da Roca. Discover Azenhas do Mar, a hidden coastal gem nestled among mountains. Marvel at its beaches and natural pools. Sintra, a place of architectural wonders and mystery, awaits you. Savor delicious local cuisine and explore charming streets, lush parks, and regional pastries. Experience nature, history, and charm guided by an expert on a luxury private tour from Lisbon. An adventure that awakens all your senses.
Day Eight
Douro Valley Beauty & Vineyards
Embark on a journey to the Douro Valley, a place declared a UNESCO World Heritage site. After a relaxing journey, you will arrive at your luxurious retreat, an elegant paradise in the heart of this wine region. With the sunset casting a golden hue over the vineyards, you'll immerse yourself in a unique experience. The magic of the Douro Valley will envelop you, promising days of charm in this land of wines and traditions. As night falls, enjoy an exquisite dinner with the finest local wines, preparing for the treasures that await you in the days ahead.
Day Nine
Douro Valley Beauty & Tastings
Embark on an unparalleled experience. It all begins with an exclusive private wine tasting tour, where passionate oenologists will guide you through the secrets of the wine region. Then, a serene journey awaits you in the Douro Valley, where you'll find yourself surrounded by vineyards that seem to be woven by nature itself, and you'll feel the serenity of the region. This trip is an opportunity to discover the magic of wine and the beauty of the Douro Valley in a truly unforgettable experience. Get ready to be captivated by this land of charm and wine traditions!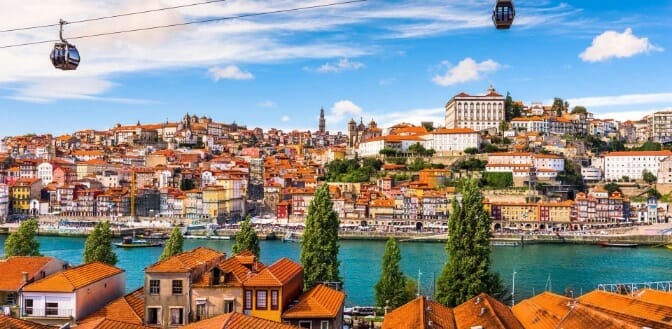 Day Ten
Passion of Porto
Leave behind the enchanting Douro Valley and embark on your journey to Porto, a city steeped in history and culture. Explore cobblestone streets filled with historic architecture and immerse yourself in its picturesque atmosphere, all on an exclusive private tour. Enjoy local cuisine in cozy bistros and sample the renowned Port wine. Porto will captivate you with its authenticity and vibrancy, promising days of fascinating discoveries and unforgettable experiences on its charming streets and riverside.
Day Eleven
Passion of Porto
Explore the fascinating UNESCO-recognized treasures of Porto on this private tour. Immerse yourself in the charm of its cobblestone streets and colorful houses in Ribeira, a designated World Heritage site. Discover the iconic Dom Luís I Bridge and its panoramic views. Explore the history of Livraria Lello and admire the beauty of São Bento Train Station. Uncover the authenticity of Mercado do Bolhão and indulge in the exquisite Port wine cellars, renowned worldwide. Let yourself be enchanted by the magical essence of Porto, a city that captivates with its unique heritage and unparalleled flavors.
Day Twelve
Adeus / Farewell! - VIP Airport Transfer
We've reached the end of your unforgettable honeymoon! As this journey comes to a close, the special moments you've experienced during these days will stay in your heart. Now, our exclusive private transfer awaits to take you from your hotel to the airport. It's time to bid farewell to this love-filled trip and these unique memories, but remember you're always welcome to return and create more memories together. Until we meet again!
Customize this Tour
We believe life is short and that you deserve your dream trip to be truly personalized & seamless without missing out. That's why we have our "Only 5 Tours per Week Promise"… to offer more quality for our customers.
Inquire Today
Magical Spain & Portugal has many tours & itineraries to check out — here are a few more to consider for your dream vacation.
Portugal
Embark on a captivating journey through the charming landscapes and rich culture of Portugal, with exclusive experiences.
Portugal
Embark on an extraordinary odyssey through the captivating landscapes of Portugal.
Portugal
Welcome to an exciting journey through the Jewish heritage in Portugal!