Overview
This private customizable romantic Spain tour is ideal for you to fall in love with the Spanish passion for life, luxury hotels, beautiful landscapes and fine foods. ​​Travel smoothly with top guides, drivers and our 24-7 support, you'll discover the vibrant heart of Spain. From the majestic Madrid to Andalucía region and Barcelona. Each step immerses you in a passionate culture rich in history. Seville, will captivate you with its tapas cusines, charm and passion of Flamenco guitar and dance shows. In Granada, experience the enigmatic Alhambra and magical Albaicín. Beguiling Barcelona, welcomes you with its modernist architecture and a vibrant art scene. Each city is a treasure waiting to be discovered on this exciting cultural adventure. You'll rest in carefully selected 5-star hotels, enjoy private transportation, be guided by experts, and savor the exquisite cuisine of internationally renowned restaurants. Availability is limited as we only offer 5 private luxury trips per week on a "first reserve, first served basis" so that we may offer the very best seamless planning and support. Contact Dan or Rachel today to check availability
Itinerary
Day One
Majestic Madrid
Embark on an adventure in the heart of Madrid, where culture comes alive at every turn. Immerse yourself in masterpieces at the Prado, Reina Sofía, and Thyssen museums, where art ignites the soul. Marvel at the majestic Royal Palace and feel the city's pulse at Puerta del Sol. Explore the enchanting Literary Quarter, a fusion of literature and gastronomy. Unwind in the magical Retiro Park. Discover the gastronomic capital that tantalizes your senses. Madrid awaits, ready to captivate your spirit!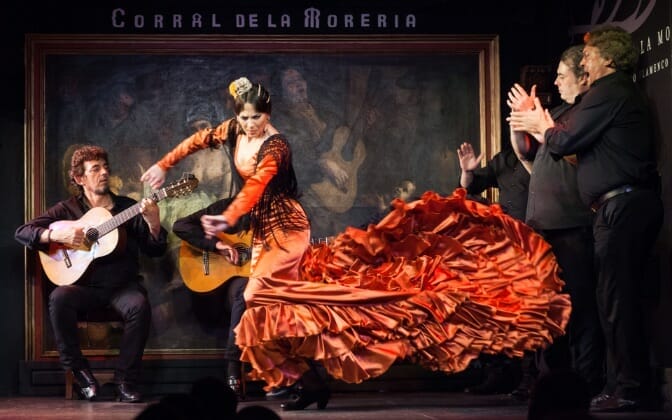 Day Two
Majestic Madrid
Delight in the tantalizing world of Madrid's gourmet tapas and exquisite wines, where every bite is a symphony of flavors crafted with artistic precision. Immerse yourself in the soul-stirring allure of flamenco, as the rhythmic beats and passionate movements transport you to another realm. Discover the enchantment that bewitched Ava Gardner, who found solace and inspiration in the mesmerizing tablaos of Madrid. Let your senses embark on an extraordinary journey, where culinary delights and cultural splendors intertwine in perfect harmony.
Day Three
Captivating Córdoba
On your journey from Madrid to Seville, you'll make a stop in Córdoba, a city that shines with its own light. With an expert guide and transportation at your disposal, you'll delve into the rich history of this city. You'll discover the stunning Mosque-Cathedral, a marvel of Islamic and Christian architecture. While wandering through the winding streets of the Jewish Quarter, you'll feel like you're experiencing centuries of heritage. Córdoba will unfold before you, splendid and steeped in history, a fundamental pillar on your tour through magnificent Andalusia, where you can indulge in authentic Cordovan cuisine. Get ready to be captivated!
Day Four
Splendid Seville
Seville, a captivating and unique city. The Giralda, the Cathedral, the Alcázar, and the Santa Cruz neighborhood, jewels filled with history. Its narrow streets envelop you in their charm, imbued with the magic of its culture. Immerse yourself in its lively atmosphere and uncover its hidden treasures. Seville, a destination that will surprise you with its rich history and authenticity.
Day Five
Secrets of Seville
Immerse yourself in the enchanting world of Sevilla, where history and charm converge. Feel the heartbeat of the city at Plaza de España, a magnificent masterpiece that whispers tales of the past. Discover the lush oasis of Maria Luisa Park, a tranquil haven amidst the bustling streets. Immerse yourself in the vibrant spirit of Triana, where flamenco resonates through its narrow alleys. Behold the alluring golden beauty of the Torre del Oro, guardian of secrets from bygone eras. Embark on a culinary journey through the historic center, where a 17th-century tavern beckons with tantalizing tapas. Sevilla, where every step is a stroke of magic.
Day Six
Great Granada!
Discover the city of Granada, especially the enchanting Albaicín neighborhood, on a private tour with an expert guide, designed for an unforgettable romantic experience. Let yourself be guided through the winding streets of the Albaicín, declared a UNESCO World Heritage Site, where the rich Moorish history merges with Spanish culture. Explore hidden plazas, bustling markets, and savor stunning views of the Alhambra. As the grand finale, enjoy a dinner with unique and incredible views, adding the perfect touch to your romantic journey in Granada.
Day Seven
Amazing Alhambra
Get ready for an unforgettable experience as you immerse yourself in a private VIP tour of the Alhambra Palace, Patios & Gardens, an architectural treasure that will leave an indelible impression. Accompanied by an expert guide, you'll uncover the secrets of this Moorish palace complex, where history comes to life through intricate designs and fascinating tales. Stroll through the lush Generalife Gardens, where flowers and fountains surround you, creating a profoundly romantic atmosphere. As the evening approaches, the Alhambra is illuminated under the soft glow of twilight, offering you a unique and magical view that will capture your heart. Are you ready to be captivated by the Alhambra?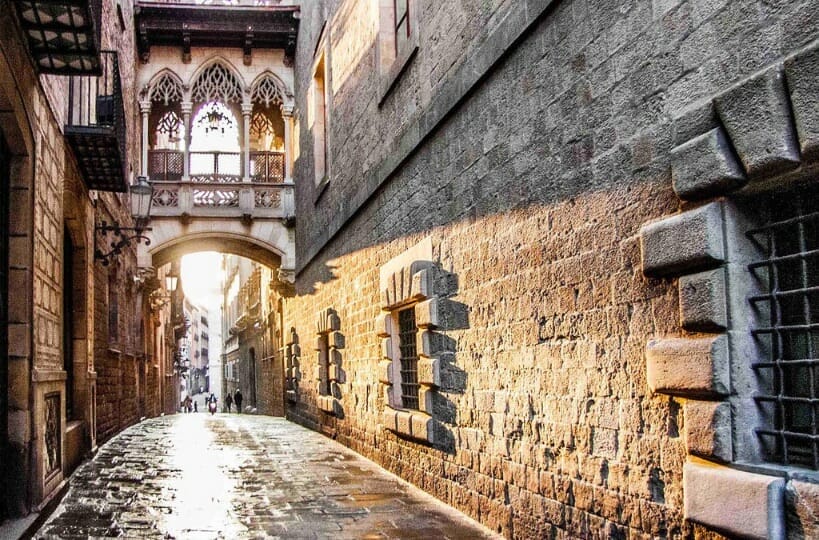 Day Eight
Beguiling Barcelona
Get ready for a journey through time in the heart of Barcelona! Our exclusive private tour of the Gothic Quarter will take you through cobblestone alleys and hidden squares, where intriguing stories and ancient mysteries await to be unveiled. Guided by a passionate and expert guide, you'll experience a deep dive into the city's past while savoring the most exquisite tapas at centuries-old establishments. A journey that awakens all your senses and immerses you in the eternal magic of Barcelona. Welcome to an unforgettable adventure!
Day Nine
Barcelona's UNESCO Architecture
Immerse yourself in the fascinating world of modernist architecture on an exclusive private tour, guided by an expert, that will transport you to Antoni Gaudí's vision. Explore iconic UNESCO masterpieces like the Sagrada Familia and Park Güell, where every detail tells a story of innovation and art. Experience Gaudí's genius as you stroll through the charming streets of Barcelona, unveiling the secrets of his creations. Dive into the perfect fusion of art and innovation on this thrilling journey.
Day Ten
Farewell & Happy Travels Always!
We've reached the end of your Romantic Spain private luxury tour! Thanks for choosing the USA's Spain experts at Magical Spain. As this journey comes to a close, the special moments you've experienced during these days will stay in your heart. Now, our exclusive private transfer awaits to take you from your hotel to the airport. It's time to bid farewell to this love-filled trip and these unique memories, but remember you're always welcome to return and create more memories together. Until we meet again! Muchas Gracias, Saludos y Hasta Pronto :-)
Customize this Tour
We believe life is short and that you deserve your dream trip to be truly personalized & seamless without missing out. That's why we have our "Only 5 Tours per Week Promise"… to offer more quality for our customers.
Inquire Today
Magical Spain & Portugal has many tours & itineraries to check out — here are a few more to consider for your dream vacation.
Spain
An exclusive honeymoon journey through Spain awaits you, an experience seamlessly blending luxury and the picturesque charm.
Spain
Enjoy an exciting private, luxury, custom 10 day family tour of Spain with captivating experiences, top guides, drivers...
Spain
Embark on an unforgettable private Spain luxury journey of Jewish heritage with 24-7 support & custom trip design.