Overview
Embark on a magical odyssey through Spain, where history, art, and flamenco intertwine in Madrid. Discover the timeless cities of Toledo and Segovia. Immerse yourself in the captivating rhythms of Seville and enjoy an olive oil tasting in Carmona. Marvel at the enchanting beauty of Ronda, which captivated the likes of Hemingway and Orson Wells. Experience the timeless charm of Granada and be mesmerized by Gaudí's genius in Barcelona. Ascend the mystical mountains of Montserrat, where spirituality meets breathtaking landscapes. Let Spain's rich blend of culture and flavors transport you to a world of unforgettable experiences.
Itinerary
Day One
Majestic Madrid: Where Heritage and Enjoyment Converge.
Explore Madrid's rich tapestry of experiences. Behold the regal beauty of the Royal Palace, a majestic testament to Spanish history. Lose yourself in the vibrant energy of the iconic Plaza Mayor, where centuries of stories unfold. Discover artistic masterpieces at the renowned Prado Museum, a treasure trove of European art. Immerse yourself in the passionate world of flamenco, as soul-stirring music and dance captivate your heart. Indulge in delectable tapas and exquisite wines, savoring every moment of this extraordinary city.
Day Two
Madrid's Art Triangle Revealed
Inside the Art Triangle of Madrid, where world class art become gateways to unexplored universes. In the Prado Museum, beyond the iconic paintings, a fascinating secret awaits: a replica created simultaneously with Leonardo da Vinci painting his own "Mona Lisa," with an enigmatic smile that defies conventions. The Reina Sofía Art Center will transport you to the world of dreams with visionary works by Frida Kahlo and other masters of surrealism. And at the Thyssen-Bornemisza Museum, you'll discover an unknown treasure: a striking self-portrait by Rembrandt, capturing an enigmatic and mysterious essence. Uncover this Art Triangle and let yourself be carried away by the magic and secrets that hide in every corner.
Day Three
Segovia: Roman Marvel to Spanish Versailles
Immerse yourself in the enchanting beauty of Segovia, where history and architecture come together in a captivating spectacle. From the iconic Roman Aqueduct to towered structures, Romanesque churches, synagogues, and Renaissance palaces. The mysterious Alcázar will transport you into a fairy tale. Indulge in the legendary cochinillo and discover the "Spanish Versailles" just 10 km away. Segovia awaits you with wonders at every turn!
Day Four
Toledo: Where History, Power & Beauty Converged
Unveil the captivating charm of Toledo, where the past comes alive at every corner. Discover the astonishing architectural harmony of a Gothic cathedral, an ancient mosque, and two synagogues, silent witnesses of a unique historical coexistence. Let yourself be amazed by the majestic Alcázar and cross the picturesque bridges that bridge the gap between the past and the present. Toledo, where history and beauty intertwine in an unforgettable experience.
Day Five
Splendid Seville
Seville, an Andalusian gem basking in the golden sun, unveils its splendor in the picturesque Santa Cruz neighborhood. Its winding cobbled alleys meander through charming white houses adorned with overflowing flower pots. A whisper of history mingles with the scent of oranges as the majestic Alcazar unfurls its magical gardens. The imposing Cathedral, home to the Giralda, towers gracefully on the horizon, beckoning you to lose yourself in its sublime beauty.
Day Six
Soulful Seville
Embark on a captivating journey through the vibrant wonders of Sevilla. Marvel at the grandeur of Plaza de España, adorned with intricate artisanal tiles and exquisite architecture. Explore the lively district of Triana, known for its vibrant atmosphere and rich flamenco heritage. Indulge in a unique experience, savoring a delicious paella while enjoying the incredible city views. Let the unique charm and culinary delights of Sevilla create unforgettable memories that will linger in the heart of every traveler.
Day Seven
Capitavating Carmona
Embark on a journey to the captivating town of Carmona, where time stands still and history comes alive. Its cobblestone streets whisper ancient legends as you immerse yourself in its charm. Indulge in a unique sensory experience, a tasting of olive oil that unveils the secrets of liquid gold. Carmona, a canvas of ethereal beauty, awaits travelers with its picturesque history and authentic flavors. Let yourself be enchanted by its unparalleled charm!
Day Eight
Journey Through Andalusia's White Villages: Unveiling Hidden Charms and Timeless Beauty
On your way to Ronda, you will explore the most beautiful white villages of Andalusia. Traveling through this region is like immersing yourself in nature's embrace, capturing snapshots of whitewashed houses adorned with colorful flower pots. Wander through a maze of steep alleys that lead you to charming little squares. Take in breathtaking mountain landscapes and uncover traces of both Arab and Christian history. Allow yourself to unwind and be swept away by the uniqueness of this journey.
Day Nine
Ronda: History, Romance & Legend
Discover Ronda, a place that Captivated Orson Welles and Hemingway. Here, the city unveils its unique charm, enveloped in the mist of history and romance. Let yourself be captivated by the towering cliffs of Tajo and the Puente Nuevo, as fantasy merges with reality. Walk along the cobbled streets and uncover the hidden secrets amidst the shadows of bullfighting legends and flamenco. Ronda, a magical stage that invites you to create your own unforgettable stories.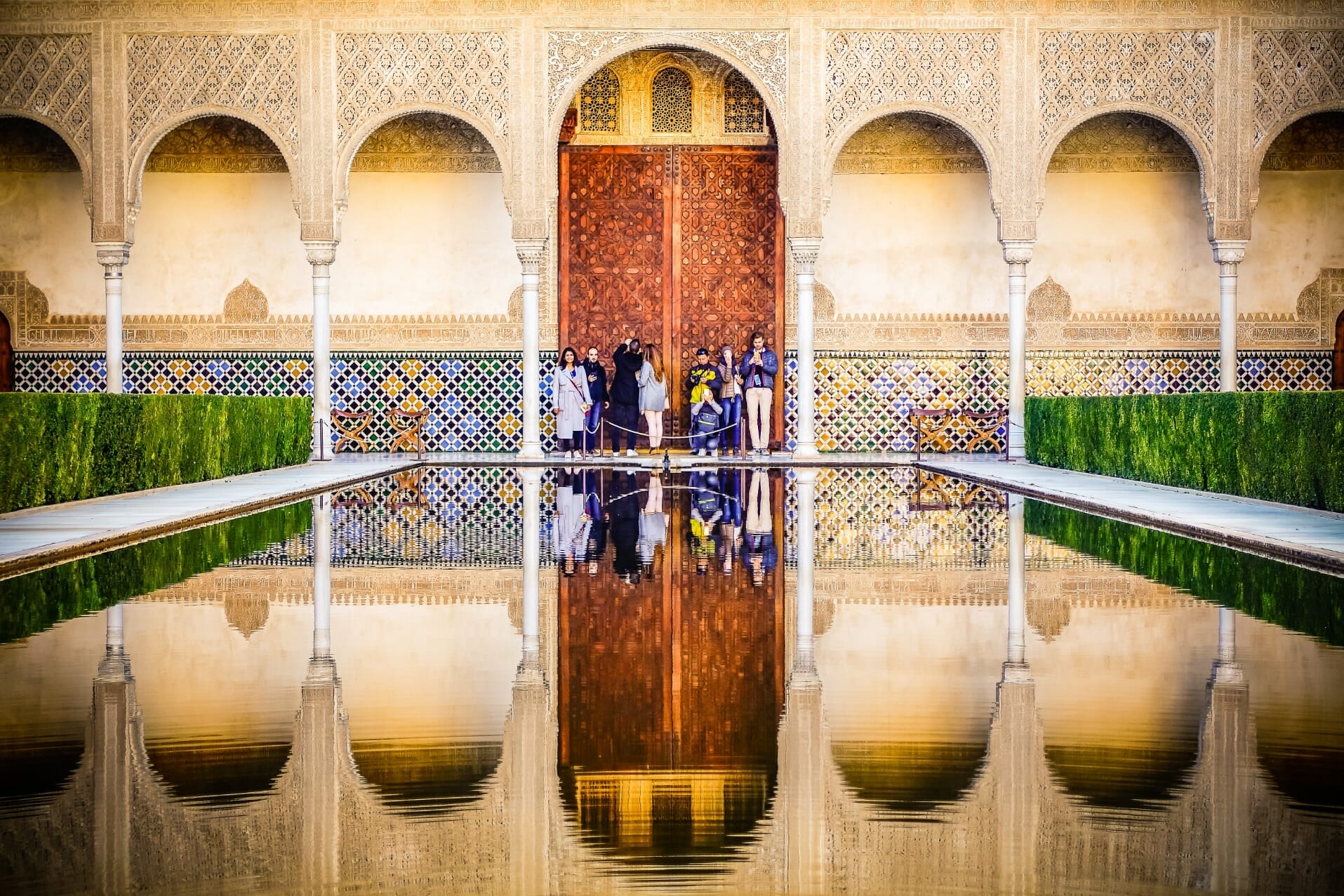 Day Ten
Granada: The Last Moorish HQ in Iberia
Step into the enchantment of hilly Granada, while Moors and Christians fought, a one-of-a-kind Andalusian legacy survived with Renaissance architectural gems. Fountains, viewpoints, and "Cármenes," the luxury villas surrounded by gardens. It's no wonder that old Granada has been recognized as a UNESCO World Heritage Site. Discover Granada and let yourself be captivated by its timeless charm.
Day Eleven
Amazing Alhambra: 1001 Arabian Nights
The medieval Moorish elite lived in splendor on a hilltop inside the Alhambra citadel, a realm of dreams where history dances with beauty. Surrender to the splendor of its palaces, be captivated by the intricate details of its courtyards, and immerse yourself in the serenity of its gardens. Unveil hidden secrets in every nook and cranny, and let the magic of this unique gem whisk you away to a universe of wonder and timeless allure. The Alhambra beckons, ready to mesmerize your senses and transport you to a realm of everlasting enchantment.
Day Twelve
Barcelona's Architectural Masterpieces
Unleash your senses in the captivating city of Barcelona, where Gaudí's genius unfolds in all its splendor. From the awe-inspiring Sagrada Familia to the whimsical mosaics of Park Güell, his architectural masterpieces will leave you in awe. But what truly sets Barcelona apart is the vibrant energy that pulses through its streets, where art and creativity intertwine in an unparalleled dance. Immerse yourself in this enchanting world and let its unparalleled magic sweep you away.
Day Thirteen
Beguiling Barcelona's Old Town
Embark on a captivating journey through Barcelona's Gothic Quarter, where history intertwines with charm. Wander along ancient cobblestone streets, uncovering majestic churches and vibrant squares. Delight in the extraordinary pleasure of savoring gourmet tapas, where traditional flavors meld with avant-garde culinary techniques. Enhance your gastronomic adventure by pairing these delectable bites with exquisite wines, handpicked to elevate your taste buds. Immerse yourself in this remarkable fusion of culture, architecture, and gastronomy, creating unforgettable memories in the heart of Barcelona.
Day Fourteen
Monserrat Mystic Mountain & Wine Country
Embark on a captivating journey to Montserrat, a mystical mountain retreat nestled in the heart of Catalonia. Marvel at the breathtaking beauty of its rugged peaks and ancient monastery, where spirituality meets nature in perfect harmony. Afterward, indulge your senses with a visit to a boutique winery, where passion and craftsmanship converge to create exquisite wines. Uncover the secrets of the terroir and savor the essence of Catalonia in every sip.
This is just placeholder text. Don't be alarmed, this is just here to fill up space since your finalized copy isn't ready yet. Once we have your content finalized, we'll replace this placeholder text with your real content.
Jane Doe
Los Angeles, CA
Customize this Tour
We believe life is short and that you deserve your dream trip to be truly personalized & seamless without missing out. That's why we have our "Only 5 Tours per Week Promise"… to offer more quality for our customers.
Inquire Today
Magical Spain & Portugal has many tours & itineraries to check out — here are a few more to consider for your dream vacation.
Spain
​​Embark on a romantic journey through the vibrant heart of romantic on your Spain Private Luxury Tour (10 Days)
Spain
An exclusive honeymoon journey through Spain awaits you, an experience seamlessly blending luxury and the picturesque charm.
Spain
Enjoy an exciting private, luxury, custom 10 day family tour of Spain with captivating experiences, top guides, drivers...