Overview
Enjoy a luxurious 7-day private tour in Marrakech and its surroundings, accompanied by expert guides. Explore the wonderful city of Marrakech with its rich culture, exotic souks, and historical landmarks. Indulge in delicious Moroccan cuisine at upscale restaurants, savoring exquisite and authentic dishes. Discover the breathtaking Atlas Mountains and immerse yourself in the fascinating Berber culture in picturesque villages. Experience the captivating desert landscape as you delight in a peaceful camel ride. For thrill-seekers, venture on a fun quad excursion through the dunes. A journey filled with culture, exquisite flavors, and unforgettable landscapes awaits you in Marrakech and its surroundings.
Itinerary
Day One
Marrakech
Discover Marrakech on an exclusive private tour with an expert guide. Marvel at the imposing Koutoubia Mosque and immerse yourself in the opulence of the Bahia Palace. Let yourself be captivated by the fascinating history of the Sephardic tombs and delve into the authenticity of the bustling Medina. As the sun sets, Jemaa el-Fna Square comes alive with magical vitality, full of storytellers and exquisite flavors. As the sun sets, let yourself be transported to a luxurious restaurant to savor the authentic flavors of Morocco. A journey to Marrakech is a journey into the unknown and the captivating, an experience that will linger in your memory forever!
Day Two
Marrakech
Immerse yourself in the charm of Marrakech with the help of an expert guide and discover two of its most beautiful treasures. Explore the lush Jardin Majorelle and be enchanted by its botanical beauty, while the guide tells you the fascinating history of its creator, Yves Saint Laurent. Then, dive into an oasis of tranquility in the Palmeraie, where the guide will provide you with interesting information about this mystical place. After a day of exploration, return to the city center for a relaxing experience in a luxurious traditional hammam, where a wellness expert will guide you through a rejuvenating experience. Enjoy the perfect combination of nature, culture, and well-being in Marrakech!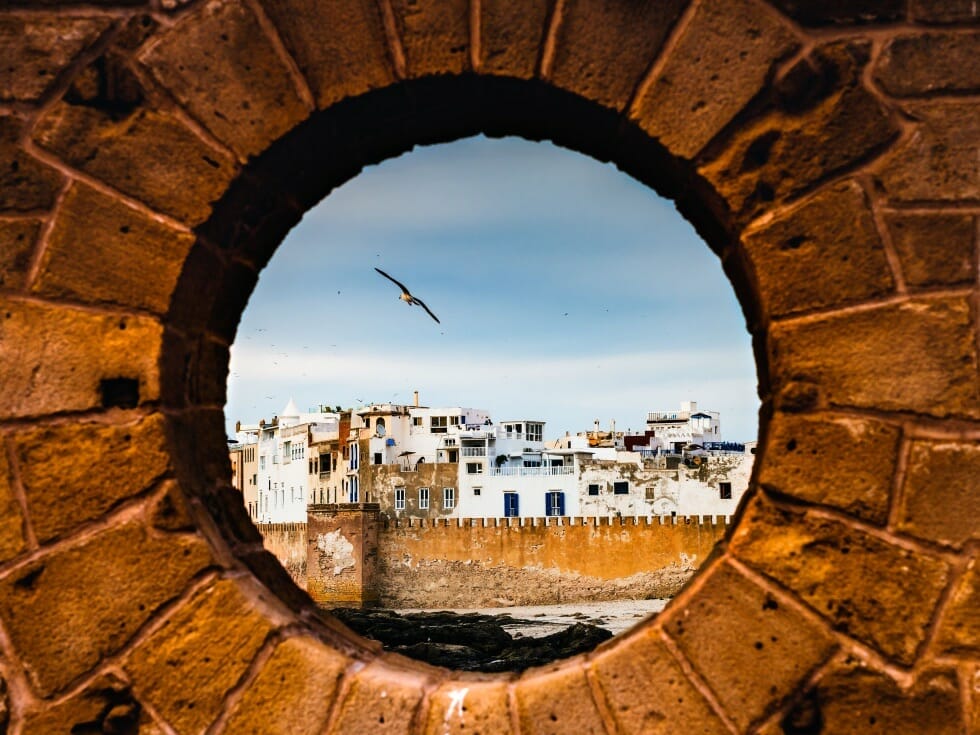 Day Three
Essaouira
Embark on a journey from Marrakech to Essaouira with your private guide and discover a picturesque city in Morocco. With a rich Phoenician history, its impressive fortifications, vibrant fishing port, and typical regional architecture captivate visitors. The Medina of Essaouira is a UNESCO World Heritage site. Enjoy freshly caught seafood at a local restaurant. Immerse yourself in its bohemian atmosphere and experience the unique combination of culture, history, and natural beauty that makes Essaouira an unmissable destination in Morocco.
Day Four
Atlas Mountains
Immerse yourself in an exciting excursion to the breathtaking Atlas Mountains and the magical Ourika Valley! Let yourself be captivated by the authenticity of picturesque Berber villages and be amazed by the stunning panoramic views of the majestic mountains. Enjoy an unforgettable lunch overlooking the river and waterfalls in the beautiful Ourika Valley. Additionally, you have the option to delve into the local culture by visiting a lively market in a picturesque mountain village. An experience that will transport you to a world of natural beauty and authenticity in Morocco awaits you!
Day Five
Agafay Desert
Discover the magic of Agafay Desert on this thrilling excursion, a close alternative to the Sahara. Immerse yourself in the captivating desert landscape as you delight in a peaceful camel ride. For those seeking excitement, embark on a thrilling quad biking adventure through the dunes. Enjoy a delicious lunch at an authentic desert camp, accompanied by traditional entertainment. Additionally, get to know the fascinating culture of a nearby Berber village up close. This unique experience will transport you to a world of charm and discoveries in Agafay Desert. An unforgettable adventure awaits you!
Day Six
Berber Essence
Uncover the essence of Morocco on our exclusive private excursion, Berber Routes, led by authentic local experts, straight from Marrakech! Immerse yourself in the rich traditions and vibrant culture of the Berber villages hidden in the majestic Atlas Mountains. Be mesmerized by breathtaking views and the imposing nature as you tread along unique chromatic trails. Experience the warm hospitality of the locals, who proudly preserve their ancient customs. Discover picturesque villages and ancient structures frozen in time, as you explore the charming village of Tahnaout with its captivating grain mills. Get ready for an unforgettable experience that will connect you with the true authenticity of Morocco at its finest!
Day Seven
"Bslama!" Farewell
Enjoy our exclusive Private Transfer from your hotel to Marrakech International Airport with an English-speaking chauffeur. Your journey back will be as comfortable and pleasant as your unforgettable experience in Morocco. Farewell and have a safe trip back home!
This is just placeholder text. Don't be alarmed, this is just here to fill up space since your finalized copy isn't ready yet. Once we have your content finalized, we'll replace this placeholder text with your real content.
Jane Doe
Los Angeles, CA
Customize this Tour
We believe life is short and that you deserve your dream trip to be truly personalized & seamless without missing out. That's why we have our "Only 5 Tours per Week Promise"… to offer more quality for our customers.
Inquire Today
Magical Spain & Portugal has many tours & itineraries to check out — here are a few more to consider for your dream vacation.
Morocco
Immerse yourself in the exotic allure of Morocco on an exclusive journey through the most captivating corners of the country.
Morocco
Experience an extraordinary luxury adventure through the captivating beauty and rich culture of Morocco.
Morocco
Immerse yourself in exotic Morocco and embark on an unforgettable adventure filled with fascinating experiences.